Is TaoBaoFocus a Legit Website to Purchase Items From?
Purchasing Items from TaoBaoFocus Review and Tutorial - How to Purchase from TaoBaoFocus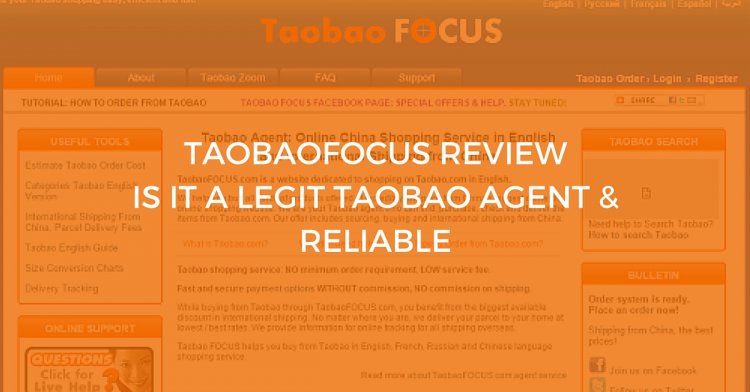 Is Taobaofocus a Legitimate and Reliable TaoBao Agent?
TaobaoFocus is a Chinese online shopping agency. "To enable and allow more overseas shoppers to enjoy shopping on Taobao, China's biggest online marketplace," the company said. Its attractiveness to the rising Middle Eastern market is a huge plus factor. It is clearly an adept at addressing global customers. In addition to the more common English, Russian, French, and Spanish, it also offers Arabic website translation.
Is it simple to order from their website?
TaobaoFocus will seem like at home for international consumers who are used to retail websites with simple navigation and contact options. It's "shop 'til you drop" 3000 kilometers away — without ever having to leave the house. The English online version, which has been meticulously edited, is text-heavy yet communicates in clear words. TaobaoFocus' order mechanism provides a pleasant purchasing experience. Customers will require no introduction to the ordering process since it is based on a generally recognizable account registration and shopping cart structure. This enjoyable journey also includes the following features:
The opportunity to provide feedback and get responses right on the purchase page;
Option for several delivery addresses;
E-mail updates on order processing;
Standard pre-shipment picture sharing of ordered item;
Also included is a "Save Shopping Cart" feature for preserving online sessions that have been stopped.
Taobao purchasing categories are precisely divided to assist non-Chinese consumers, such as tea, wedding outfits, and men's shoes.
What Is Their Fee Structure?
Service fees of 10% (of product prices + domestic delivery) are much more than those charged by certain other agencies. And, since all calculated and expected prices are provided on the website in RMB exclusively, it's impossible for a first-time consumer unfamiliar with the Chinese yuan conversion rate to determine how much of his local currency would really leave from his bank account ahead of time. TaobaoFocus is one of the few foreign buying platforms that explicitly states its policy on refunds and privacy.
What methods of payment do they accept?
PayPal, MasterCard, Visa, Maestro, JCB, WebMoney, RBK Money, and Western Union are all acceptable payment options on this Chinese agent's website.
Was There Anything On Their Blog?
The website's blog reflects the overall appeal to an international buying market. The interested user may learn about local cultures and lifestyles through postings about Chinese New Year, for example. This blog is also intended to serve as a community-building tool. Customers from all around the world are targeted with promotions and competitions like "Share your Language," Valentine's Day, and International Women's Day.
What is the quality of their customer service?
With a highly American-style, customer-friendly template, TaobaoFocus hopes to put them to rest. TaobaoFocus sets consumers' minds at ease with Live Support Chat (available 10 a.m. to 10 p.m. China time, Monday through Friday), a how-to-order lesson, a plethora of FAQs, an assurance that Claims & Complaints will be handled appropriately – and lastly – the Terms & Conditions. If a shopper is stalled by a perplexing translation on Taobao, TaobaoFocus will zero down on the pertinent items, interact with the seller, and provide desired information to the buyer.
Conclusion of the TaobaoFocus Review
TaobaoFocus' forte is an easy-to-navigate website with quick responses, however their website seems to be obsolete, and I believe they should update it. Their service fee is 10%, which is among the highest among all agents (see this taobao agent pricing comparison chart). The majority of other agents charge less than 10%. As is customary, I strongly advise you to examine this website for yourself to see if it is the greatest suit for your requirements.
What's Your Reaction?