The Engtaobao Review: Is Engtaobao a Reliable Agent at the Present Time?
Engtaobao Review, How to buy on Engtaobao, Is Engtaobao legit?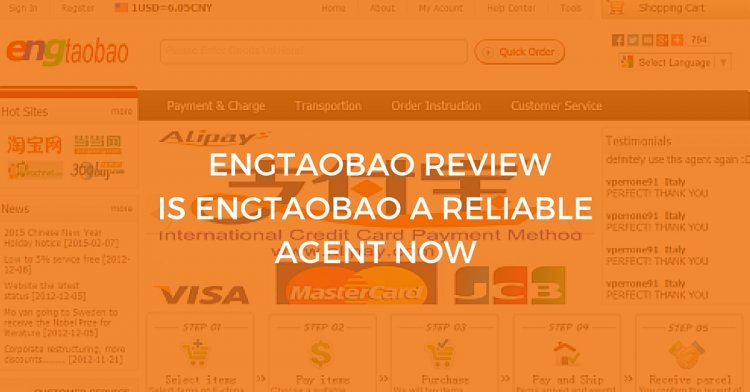 1.) Is their website user-friendly and straightforward to navigate?
The user also has the option of selecting items from the "Hot Shopping" list on the homepage, which is both quick and simple. With the help of size conversion and color charts, as well as a vocabulary list (Chinese->English) of common products, more comprehensive
information about products can be gleaned. The addition of a useful set of links to taobao.com, dangdang.com, and jd.com to the homepage is a welcome addition.
An illustrated step-by-step chart of the purchase procedure, however, falls short; the links to each step (Select items, Pay Items, Engtaobao Purchases Items, Pay & Ship, Receive Parcel) are inactive, requiring users to look for more detailed information elsewhere on the website instead.
2.) How Much Do They Charge? .
With a service fee of 6 percent of the total purchase price plus domestic shipping, Engtaobao is one of the most affordable service agents on the market. As you can see from the chart, the majority of the agents will charge you between 8 and 10 percent, with only a few charging you less than 8 percent. One of these websites is Engtaobao.
Like other agents, Engtaobao offers a VIP program. Members of the points-based VIP and SVIP programs receive benefits that reduce the fee to as little as 5 percent – a true bargain in a crowded provider marketplace.
It is important to note that Engtaobao will charge you an opaque "Chinese Customs Fee" of 1 percent of your purchase plus domestic shipping, which is quite high compared to the fees charged by most other online stores.
3.) What types of payment methods do they accept?
Engtaobao appears to take great pride in the security of its international payment system. In order to process major credit cards, including Visa, MasterCard, American Express, and Maestro, the company relies on Alipay (a Chinese third-party no-commission payment system similar to PayPal). Additionally, Western Union, bank transfer, and PayPal are all acceptable methods of payment.
The only currency that is accepted is the United States dollar. An arbitrary exchange rate of 1 $US = 6.05 RMB (yuan) is displayed on the homepage, with a different rate displayed in the Currency Exchange section of the Toolbox (6.15). That one I'm not sure about!
4.) Do they provide satisfactory customer service?
It is given prominent placement on the homepage of the website to the e-mail address of Engtaobao's staff. The extended operating hours, which are Monday through Friday from 9 a.m. to midnight, are a particularly welcome feature.
Customers who require a quick turnaround, on the other hand, may be left out in the cold if they do not have access to Skype or a phone number.
5.) How does Engtaobao keep my items safe? Is there a "Quality Guarantee" on their products?
According to our research, Engtaobao appears to be one of the few Chinese shopping agents that does not provide a pre-packing photo service of purchased items, a feature that protects the customer from having to pay hefty international shipping costs for items that are incorrectly picked, damaged, or miscolored. In practice, the only "quality guarantee" that Engtoabao.com provides is the ability to file a complaint or claim, as well as the ability to return products for a refund – all of which are available only after receipt of the product. The cost of return shipping is the responsibility of the customer. Those shipping fees can add up quickly.
6.) What is the status of their international shipping? Is There Any Kind Of Discount For EMS Services?
International shipping is accomplished through the use of EMS, China Post air parcel, or SAL.
Because of an advertised 50 percent discount on shipping by EMS (Chinese express courier), the website engtaobao.com appeals to customers who are concerned about their financial well-being.
They provide a few suggestions to help expedite shipments through customs at their final destination; however, these suggestions are sparse and only apply to customers in specific countries (Japan and Italy are particularly vigilant regarding counterfeit goods).
7.) What are the opinions of other customers about Engtaobao?
What other users have to say about Engtaobao is summarized below:
ENGTAOBAO WIG REVIEW | CosplaySpark
It's that simple: Taobao has arrived!
Conclusion of the Engtaobao Review

The bottom line is that several critical aspects of this website are far too shaky to be recommended as a whole. Adding a photo service, a customer service phone number, or even an exchange-rate chart to Engtaobao might be the perfect solution for many happy shoppers looking for a service fee that is significantly lower than the industry standard.
What's Your Reaction?